How can one, with any seriousness or sense of commitment, create a painting and take it through its life, and it doesn't involve a loss as you develop it?
Maker's Mark

Ruth Miller Forge with Stuart Shils†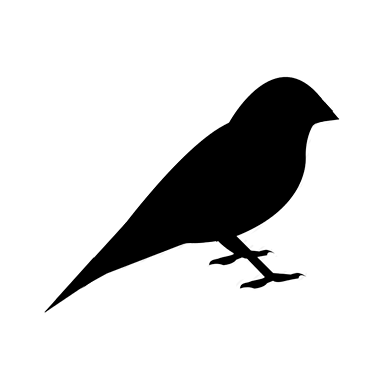 Ruth Miller Forge, Enamel Jug Still Life, 2001 (reworked 2013), oil on linen. © Ruth Miller Forge. Photo: the Finch
Ruth Miller Forge, Enamel Jug Still Life, 2001 (reworked 2013) (detail). © Ruth Miller Forge. Photo: the Finch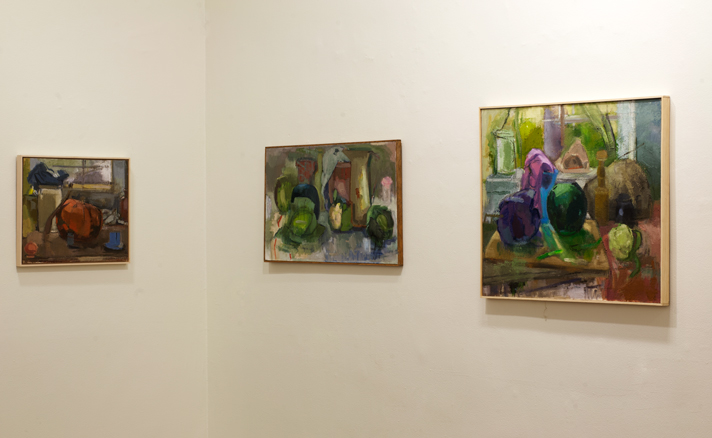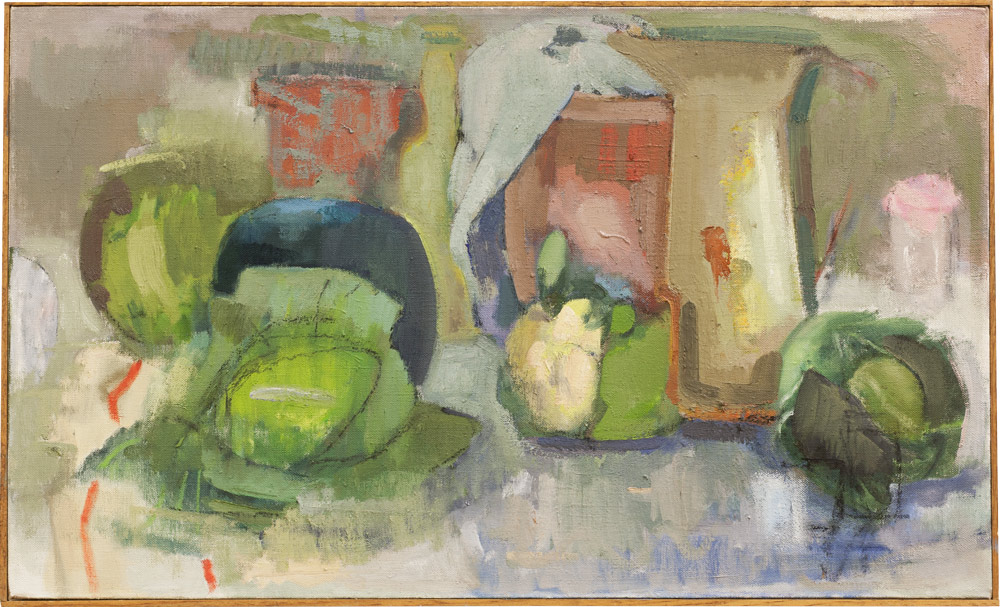 …a great deal of the work is not just changing things, but really destroying them. There's been a great deal of loss in a painting I finally accept, of things I have sacrificed.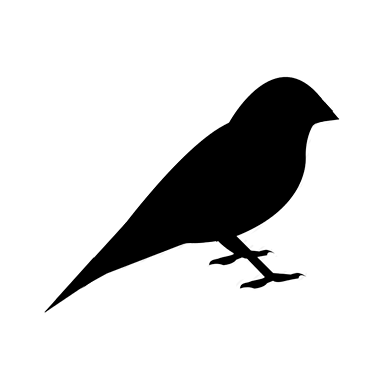 †Recorded 22 March 2014. Elisa Jensen & Ruth Miller: Place and Passage ran 3 March – 4 April 2014 at the New York Studio School gallery on 8th Street in New York.
Cover: Ruth Miller Forge, Enamel Jug Still Life, 2001 (reworked 2013)(detail). © Ruth Miller Forge. Photo: the Finch
Elsewhere on
the Finch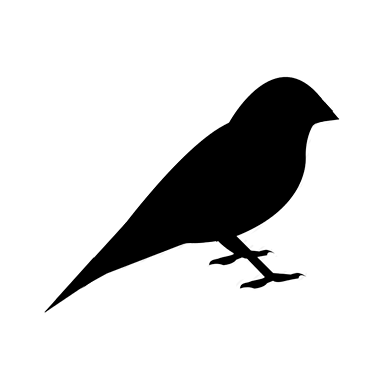 [O]ne could identify as … a kind of physiognomy coming straight back at you from the canvas — could perhaps make you aware, more clearly, with your own physical presence in front of the painting. And then behind that, a much more complex and complicated and asymmetrical world of the dots.
Read: Andrew Forge with Sarah Sands. (theFinch.net, 12/9/2016)
Sickert says somewhere, slightingly, of something, That it isn't exactly like a page torn from the book of life. And, actually, I'd like my pictures to feel as though they were a page torn from the book of life. And I have to say that 95% of the pictures I see on the walls seem concoctions to me.
Read: our citation of Frank Auerbach's conversation with Tim Marlow at the Royal Academy of Arts, 6 July 2015; and Frank Auerbach: a compendium (theFinch.net, 8/21/2016)
In sum, Auerbach found himself admiring in de Kooning what he admired in Soutine — the sort of draughtsmanship which is deeply painted, bathes shapes in air and carries the eye around the back of the form, rather than leaving it with the contours and colour of a flat patch. If any American artist of the 50s seemed to Auerbach to have matched the terms of Bomberg's 'spirit in the mass', that person was de Kooning. The example of Abstract Expressionist gesture did not wreak a sudden change in Auerbach's work, as it did in other English painters… . Instead it was slowly and cautiously absorbed, slowed down by the thickness of Auerbach's surface, which it energized in terms of vectors pushed through the paint — directional brushstrokes which wiped aside the clutter of pentimenti under the paint-skin. The first work in which this became clear was Shell Building Site From the Thames, 1959, a view down into the deep cut of the excavation for the skyscraper.
Read: Robert Hughes (from Frank Auerbach) (theFinch.net, 6/21/2016. Reprinted by kind permission of Thames & Hudson Ltd., London.)
Whatever an artist's personal feelings are, as soon as an artist fills a certain area on the canvas or circumscribes it, he becomes historical. He acts from or upon other artists.
Read: Willem de Kooning, A Desperate View. (theFinch.net, 8/2/2016. Reprinted by kind permission of the Willem de Kooning Foundation.)
My own personal, most dominate, influence as an American painter from the beginning has always been de Kooning and to this day I don't think I have ever gotten over Pink Angels simply for the way in which de Kooning uses line as an articulating, overlapping depth element and for the way he plunges that extraordinary "hammer head shark"- like shape into the middle of that extraordinary painting.
Read: Gordon Moore in Conversation. (theFinch.net, 1/31/2016)
It may take years to find what we can believe to be our own tendencies and interests and ideas about making art. We do our best to figure those things out while we are in the process of making our own work. In general we won't learn about our personal vision by means of an intellectual approach. Rather we observe our own tendencies within the art we produce, and paying close attention to what does and what does not hold our interest. Art should reflect the psyche of the artist, and where it doesn't, it has a fundamental problem.
Read: Alan Feltus, I Believe There Is No Progress In Art. (theFinch.net, 11/9/2016)
I am mesmerized by work that floats within this realm of transition and contradiction. Connected to human presence, it exists beyond subject matter. I've had this same swelling hypnotic experience in front of, among others, Goya and Ad Reinhardt, early Brice Marden, Milton Resnick, Duccio, and Dieric Bout's Mater Dolorosa, which I visit weekly. She has, I believe, the saddest eyelids ever painted.
Read: Anne Harris, I had a break-through in my painting when I began thinking metaphorically. It started with a vein in a forehead…. (theFinch.net, 7/16/2016)
Read: More from our series Maker's Mark here.
Ruth Miller Forge's most recent exhibition, Three Friends Represent: Ruth Miller, Susan Lichtman and Gwen Strahle ran 19 January – 17 February 2017 at Rhode Island College's Bannister Gallery (Providence). She lives and works in Washington Depot, CT.
Stuart Shils lives and works in Philadelphia, PA. He is represented in New York by Steven Harvey Fine Art Projects and Davis & Langdale.
Tags:
Morandi
,
Painting
,
Piero della Francesca