I see it as functioning as part elegy, part perceptual study —
The Sunshine Bores | The Daylights

Dawn Roe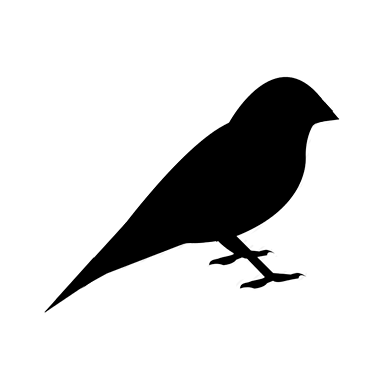 Cover: Dawn Roe Sunshine Bores, 2016, (Detail). © 2016 Dawn Roe. Courtesy the artist.
Dawn,
That's really beautiful. Is it for someone in particular? Or a mourning over a loss of a number of things? 
— m
Thanks, MJ.
And no, the "in memoriam" is not specific; it is just a final reference to the idea of an elegy. It references lots of different types of loss, and lots of friends and family going way back. (In the forefront of my mind is always my dad, of course, as well as several close friends from my 10 years in Portland that died either during that time (in the 1990's), or more recently. My friend Rachel Blumberg — who is singing — was a part of that large and varied group of friends. Which is why her voice and role in the work is particularly significant — to me.)
Any rate, that's what made this hard to work on — trying to dissociate from the personal while still sort of embracing it.
Another long-winded response from me!
Have a great night!
Ha — I'll listen and watch…
I just did. It moves a LOT faster than the one I saw before. I'm not sure if I like how much faster it is. I liked the slower pace that let me really look and not realize that something was happening. Now that you have more images, and sometimes more on the same screen, the fast speed feels too fast. I love the images too much. 
Sorry — that's my initial gut reaction to it. Is there a conceptual reason behind them moving faster? But I like the newer images that you've put in — a lot! The one of the road, especially. The panoramic view is new, too, right? Is the view of the camera seen from the side moving in a different direction? 
Oh, and honestly, I don't hear the actual Rolling Stones version — where is it?
I am excited about your new work — it feels very familiar, yet really new. 
m
Oh, I think our messages got crossed. I took out the "actual" Rolling Stones brief clips. Wasn't working.
I've made another edit with intro/outro titles and stuff.
And yeah, it's a bit faster — there are parts I may still slow down, but part of what I like is this kind of nervous energy/unease that comes from the segments where you have to do more visual/aural/reading work at once kind of quickly, then moving into a more prolonged, dirge—y kind of pace at the end.
And yes, I think I did toy around with the direction of the view camera movement.
— dawn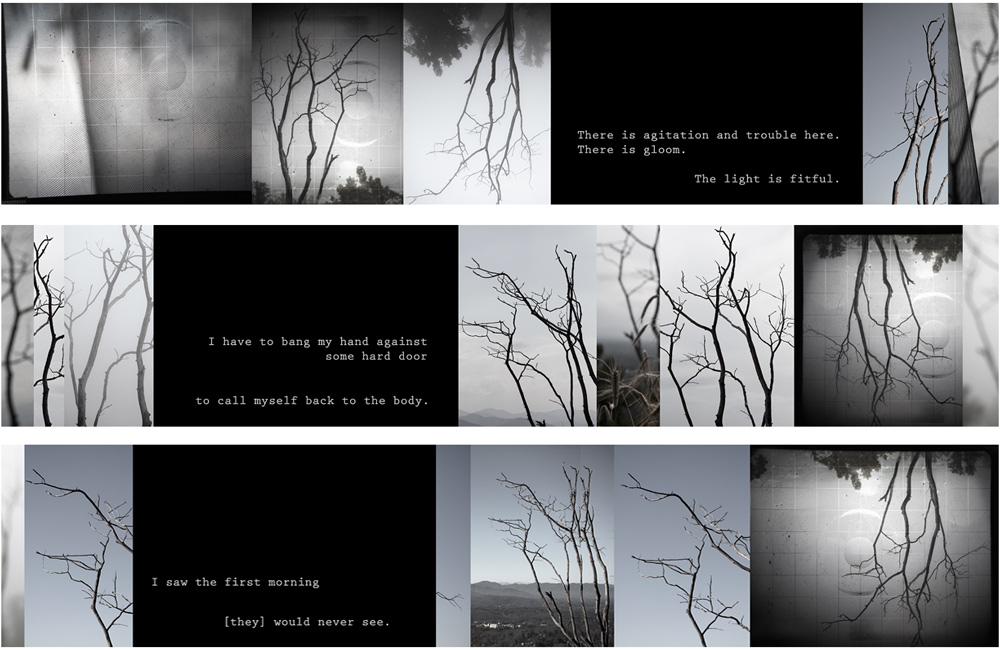 Working Notes |
Conversation Excerpts
I've been thinking about this while simultaneously editing various versions of the recent video project I wrote to you about, trying to get it to a state I felt it was worth being viewed in.
The video still needs tweaking in terms of precisely where the audio comes in/out and I haven't decided on whether or not there will also be other ambient sounds of wind, etc. lightly in the background in the currently silent spaces — if it does come in, it will be very subtle. As well, some of the text may change (I may add and/or swap out a couple of different phrases). Lastly, it hasn't been color corrected and slight tweaking with particular visuals may still occur.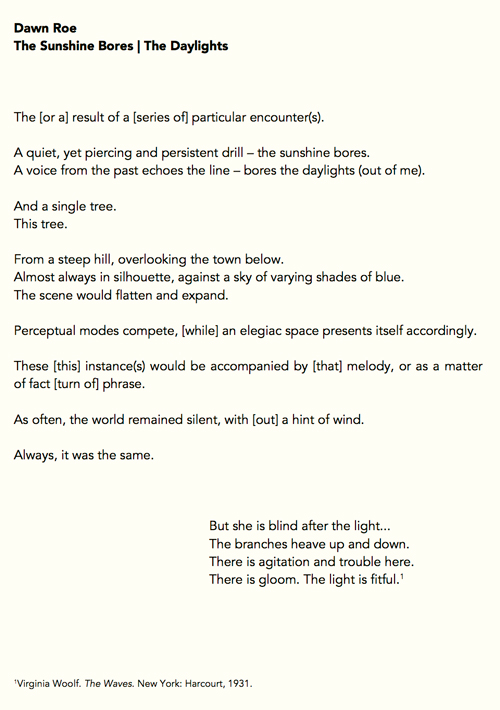 In terms of the work itself — it's a bit of a departure for me in some ways, but also consistent with past work. I see it as functioning as part elegy, part perceptual study — working on simultaneous registers at once. It's all essentially a response to a single/particular tree and/or space – on top of a hill in Asheville that is on my running route. It's a space I stop in every time. The initial impetus was to make something that continued my project from a few years back called The Tree Alone that looked to Virginia Woolf's novel The Waves as a poetic structuring device that allowed for a certain relationship to time/temporality.  In this instance, I'm being a bit more direct – lifting particular passages to use as text plates throughout the video. And, to be honest, drawing out as much devastation as possible from her language by de-contextualizing it and re-forming it, and then placing it in direct relation to particular visual instances with no regard to their order of occurrence in her original text. The audio track includes vocals sung by a musician friend that I first met in Portland, Oregon while living there in the 1990's. There is a lot of significance to that very fact in and of itself, but one that I recognize would not be of import to a viewer. Nonetheless, I've had the thought to use her singing that particular line in a video work for years now, and finally felt this was the right piece to try to work this into. I may be way off base here, but hey, that's what experimentation is all about!
I feel very uneasy writing about this myself in the straightforward artist statement manner, as there is so much ambiguity that I'm not sure how to avoid being direct, and kind of ruining whatever potential is in the experience for the viewer.
.
Dawn Roe (with Rachel Blumberg), The Sunshine Bores | The Daylights (Silent), 2016. Single-channel HD Video with Audio. © Dawn Roe 2016
The Sunshine Bores | The Daylights
is on view 16 April — 15 May, 2016 at the Cornell Fine Arts Museum, Rollins College, Winter Park, FL.
Dawn Roe
lives, works and teaches in Asheville, North Carolina and Winter Park, Florida.
Tags:
Memory
,
Video