I had been thinking about how to represent the physical nature of a memory
OCT. PM.

Kon Trubkovich In Conversation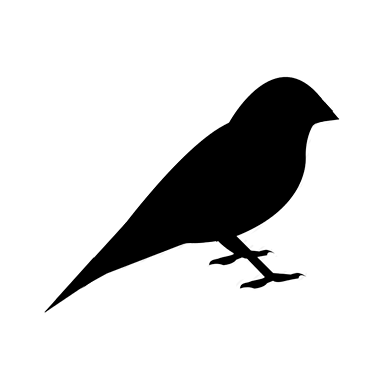 Cover: Kon Trubkovich Egress, 2016, (Detail). Courtesy of the artist and Marianne Boesky Gallery, New York. © Kon Trubkovich. Photo: Matt Grubb
kon trubkovich and richard benari spoke via email...
+
Finch Let's begin with Watchers, October Evening, Sunrise friend and Forager (all 2016). TV static and distortion intervenes. "Memory" — and our inability to achieve total recall — comes through most. It's unexpected — as both subject matter and strategy. How did you arrive at it?
Kon Trubkovich I had been thinking about how to represent the physical nature of a memory, the cognitive act of remembering and forgetting. How we remember and forget only parts of experiences and retain an unfinished puzzle that is then filled in a quixotic kind of way.
I started those paintings with no specific vision of how they would end up. The commonality among them would be a printed image of TV static or some sort of nearly imperceptible texture, like the wall paper pattern in October Evening, that was taken from a family friend's personal VHS archive. Ideas emerged as I worked, if something did not click I would remove it, and the static would re-emerge. At some point an object would trigger something in me — the fence in Sunrise friend or a drawn curtain in several other works — and it would be like finding a trail of bread crumbs in the forest. The figures would coalesce around these triggers over time. And the static underneath would weave itself into the process as another piece of the puzzle.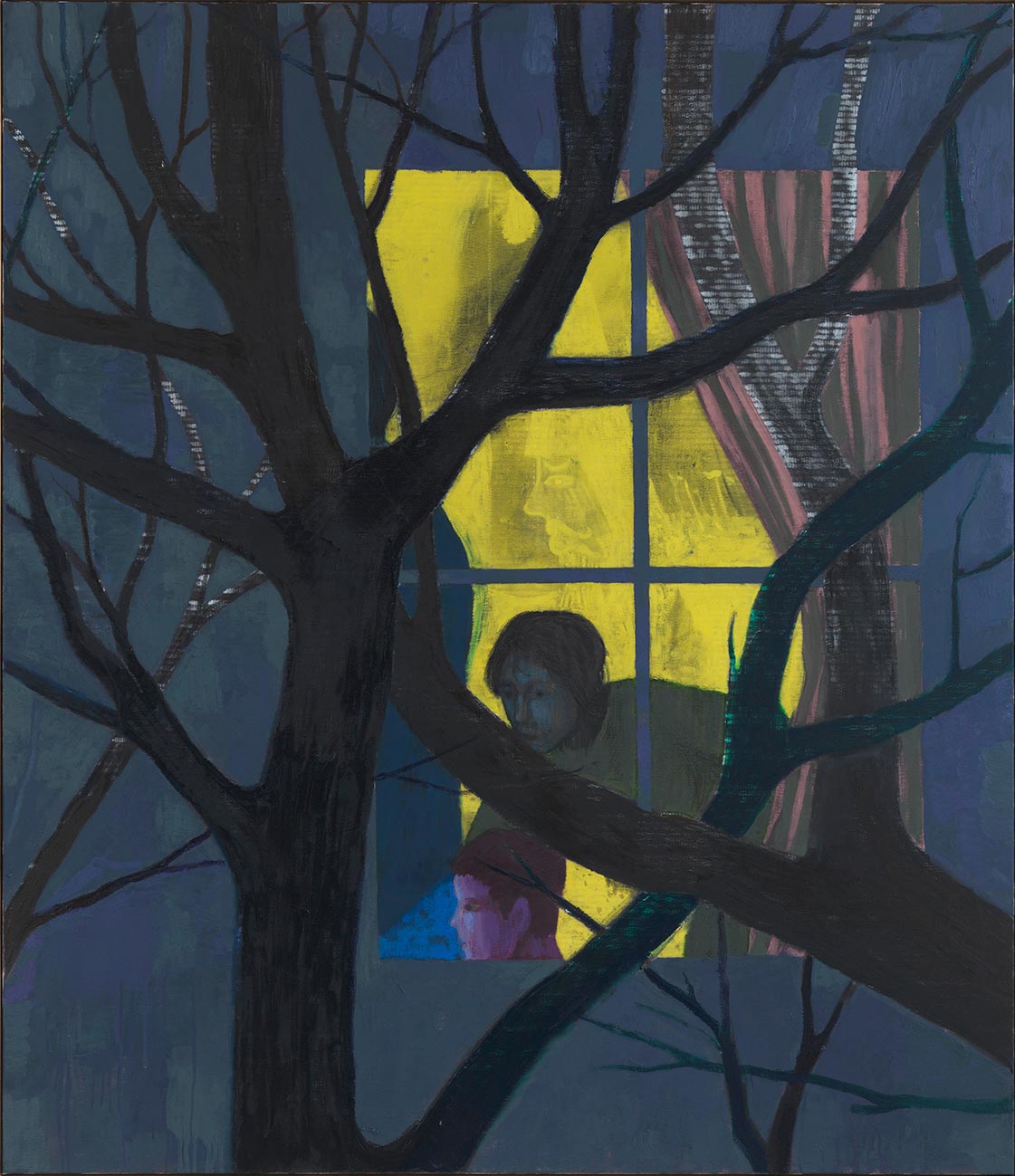 Finch In the exhibition's press release, you talk about "memory as medium." It's also unexpected. We tend to think of memory as a process or as a location — as a time or place. Can you unpack this a little?
KT As images, memories are incomplete. Some parts are factual, some parts are invented, some parts are weaved in later from personal archives. This is an unfettered way to approach a painting, the need for set ideas sort of gives way to this mnemonic process of construction. That is what I mean when I say "memory as medium."
Finch These paintings are also filled with semiotics. Curtains figure in big, imagery is layered. Things get blocked, figures get obscured. How do signs and symbols play a part? I don't get the sense of any overt reference or narrative. The fire in Sunrise friend is just a fire. Yet everything in your paintings feels like its pulling in the same direction. Especially color, which is sometimes saturated — like color in video is often saturated — and sometimes black and white, like vintage or vérité film.
KT Rather than symbols, I prefer to see them as triggers. Without them the figures became ornaments, which I do not want. Even in October Evening, which does not have a "figure" in the composition, the wall paper and the VHS time stamp guided me back on a path when I would lose the emotional thread of the painting. This was an important part of the process. The objects seem to ground the ambiguity of the works in a world that I could make sense of, and then I could distort this world once I felt like it was familiar to me.
There is always something factual that a memory is rooted in.
It begins as this grain of fact and then morphs endlessly with time.
I also wanted the space in the works to feel confusing. Depth in some places and flatness in others. And I would push this until they were so confusing as to form a weird harmony, like in Sunrise Friend, where the fire, the cat, and the ground are so dissonant that they gel. This creates a strange intimacy, and if the viewer can figure out a way into the interior of the paintings, they are welcomed inside by these idiosyncrasies. I think the same applies to Watchers and Forager.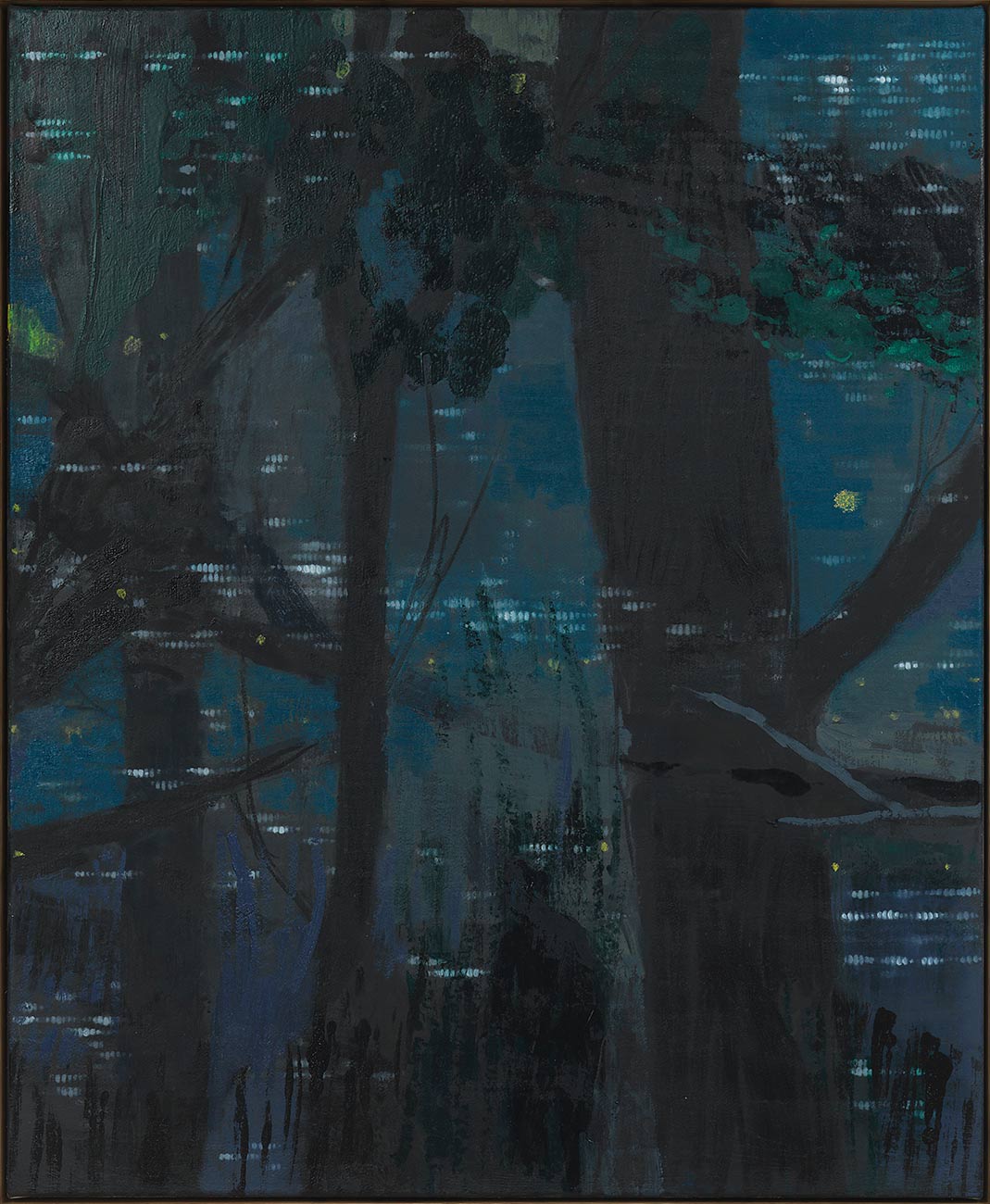 Finch Sunrise friend is particularly haunting. The blocked landscape, the central figure which is obscured, the cat, the fire. And how the figures address the viewer. What's going on here?
KT I don't want to assign any direct explanation to the imagery because I do not see these paintings as allegories. What I am after in painting is emotional candor; that is why memory has been my main reference point. There is always something factual that a memory is rooted in. It begins as this grain of fact and then morphs endlessly with time. In Sunrise Friend, this grain is the fence. It is an approximation of a fence that I remember from a seaside boardwalk in Crimea from my childhood. Everything in the painting makes sense to me because of the fence, the other parts align themselves in relation to it. I thought of each element in this painting as needing each other for sustenance, each caught in a moment of address.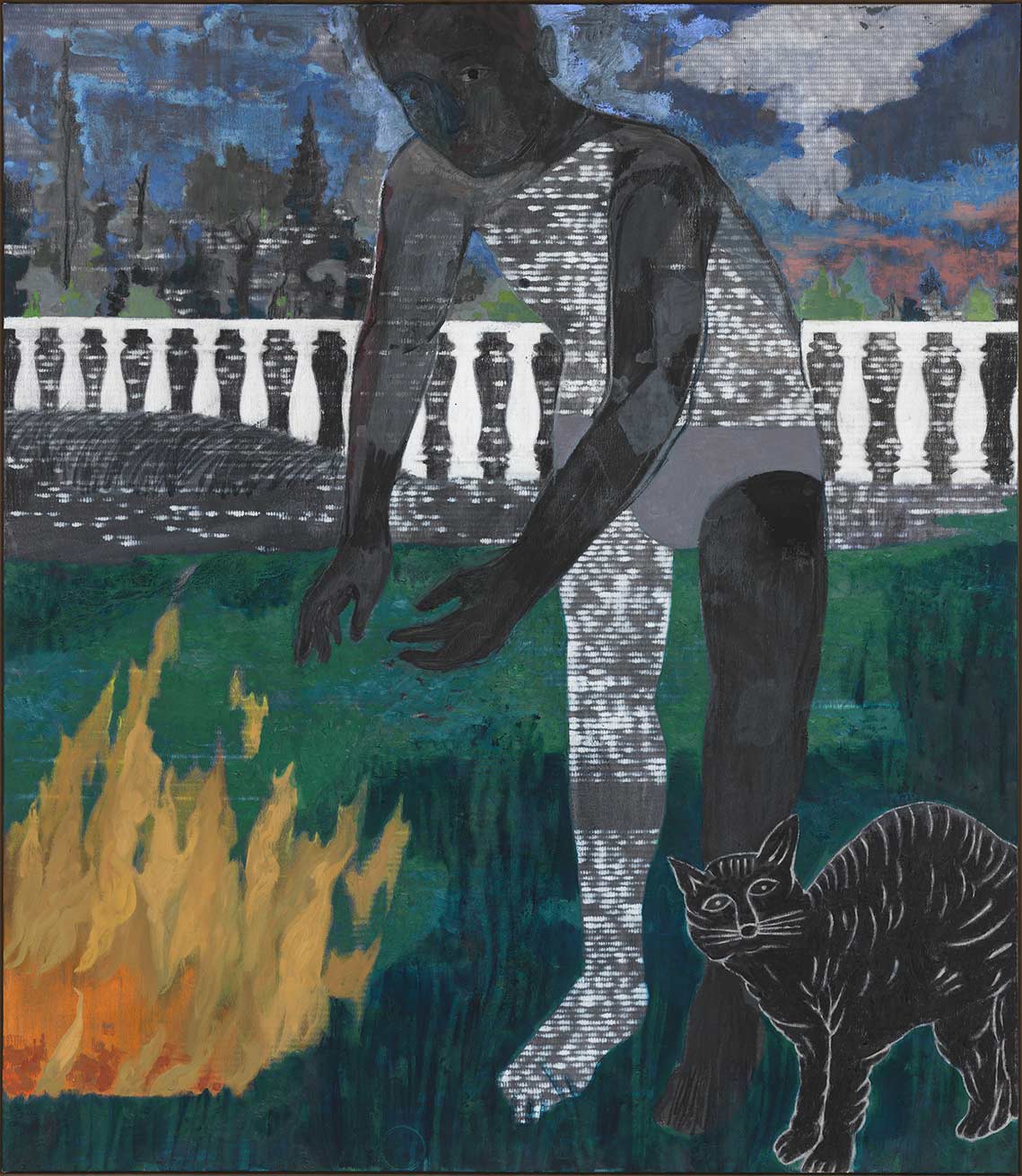 transmission: artists such as thomas eggerer, wade guyton, jutta koether, r. h. quaytman, amy sillman, and cheyney thompson...
+
Finch "Transmission," as a kind of abstraction, figures big into critical theory today. And it seems so central to these paintings — the transmission of the factual sieved through memory, or the representation of transmission as TV static or veiling. Even the transmission — or translation — of imagery from your friend's VHS archive into the painting…
KT This can be one way to read these paintings. The television static in my works, if isolated, deals with the language of abstraction. The paintings become evidence of the transmission of information from media to paint on canvas. This is more relevant to my previous works than to this new series. The previous series dealt specifically with isolating the Ab-Ex gesture and trying to have a critical attitude towards it. The analog VHS pause substituted the paint stroke by essentially mirroring a similar random/controlled logic. But the problem for me, after 10 years, was that it became a closed system. Each image was generated with obsolete analog players, rephotographed and repainted dutifully in the service of this idea. This conceptual framework was as much a part of the works as the paint, and it was always up to me to present both to the viewer as equal in importance.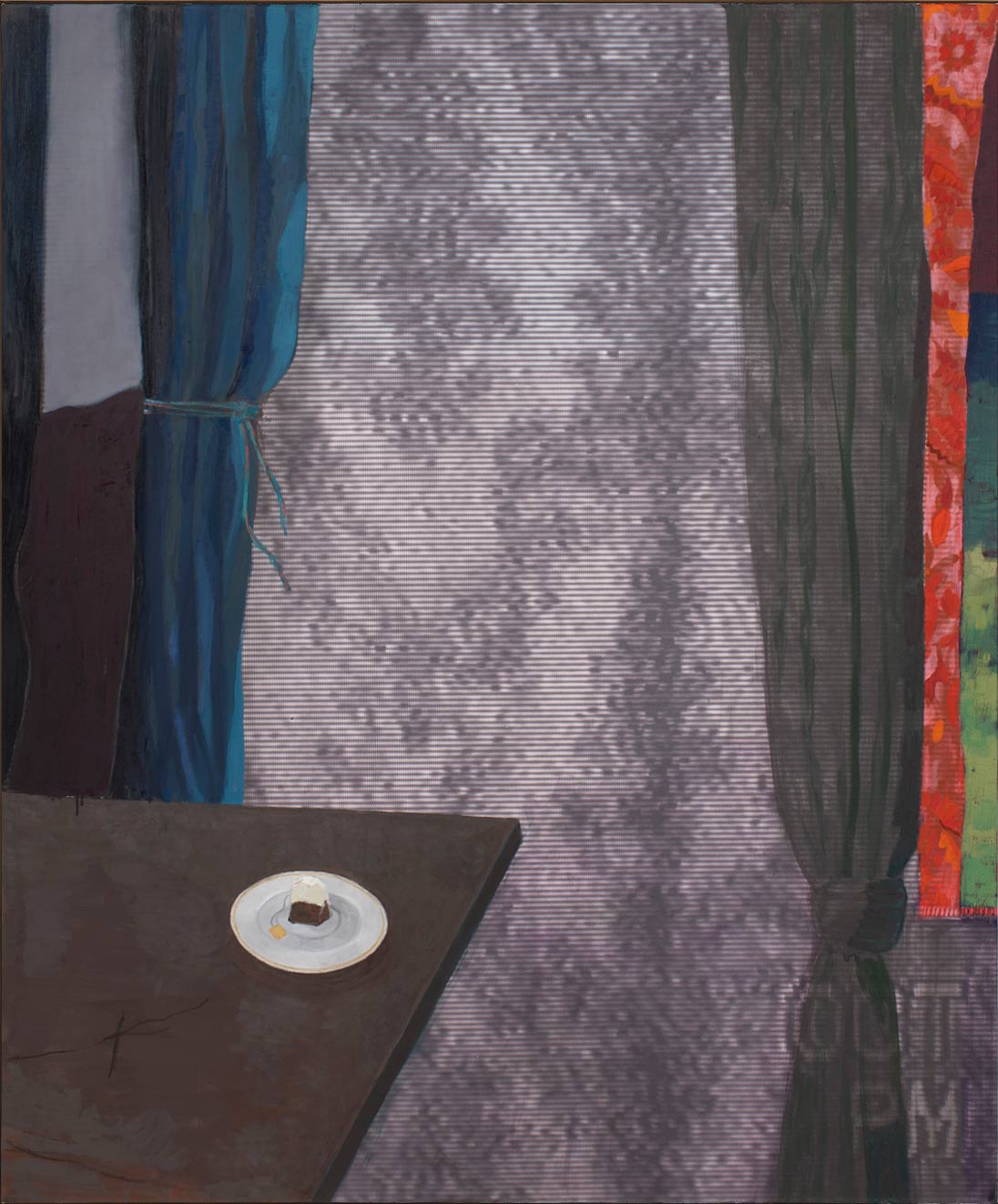 When I decided that it was time to conclude the series, it was this specific symbiosis between a set idea and the medium that I felt I needed to untangle. I wanted to allow ideas to have as much fragility as the paintings themselves. To be more invested in creating a metaphysical space in a painting then the theories governing abstraction or figuration.
Kon Trubkovich and Richard Benari spoke via email. Their conversation, which has been edited and condensed, occasions Kon Trubkovich: OCT.PM. at Boesky East (20 Clinton Street, NYC; 21 Feb – 27 Mar 2016.)
Kon Trubkovich lives and works in Brooklyn, New York. In 2015, Trubkovich had solo exhibitions at the Josyln Museum of Art, Omaha, and at Moran Bondaroff Gallery, Los Angeles. Previously, he has exhibited at United Artists, Ltd., Marfa, Texas (solo, 2014); Palacio das Artes, Porto, Portugal (group, 2014); the Museum of Contemporary Art, Chicago, Illinois (group, 2013); and MoMa PS1, Long Island City, New York (solo, 2006).
Tags:
Correspondence
,
Formats/Formatting
,
Index(ical)
,
Memory
,
Passage
,
Reference
,
Semiotics
,
Sign
,
Symbol
,
Time/Temporality
,
Translation
,
Transmission